Missenharter Brass Instrument Factory
# 7657 Ballad Horn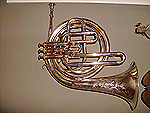 Owned by Ken Rogers, before and after pictures show how purchased on Ebay and then cleaned using silver polish and dent removal. I was more interested in preservation than restoration. Dated to 1883 from stamp on original leather case.
Ebay description 11-12-2010:
Very rare antique Missenharter Ballad Horn, similar to a Mellophone. This horn was purchased in the late 1880's or 1890's and has been in my family for years. The serial number is 7657.

The instrument plays well with all valves and slides working smoothly. It has the original mouthpiece with straight and circular lead pipe extensions for choice of key. The silver plate finish is tarnished but intact with no worn spots. There are some dents in the bell just forward of the pinkie hook and the valve corks could use replacing, other than that it's in good physical shape.

The bell has a 7" diameter. it has an ornate engraving of leaves and ribbons and bears this inscription:


Medaille

1st Class

Philadelphia
London & Paris
San Francisco
American Institute
-----------------------
Ch. Missenharter

MANF'R
NEW YORK
7657


Auction also includes the original felt lined leather case. It's deteriorating but is still intact other than needing the cover strap re-attached. The cover has a felt pocket on the underside which holds the mouthpiece and stems.